SOP For MPH - Everything You Need To Know
Are you an aspiring candidate pursuing higher education in public health? You are opting for a highly promising career trajectory by choosing this path. Given the global impact of the pandemic, public health has gained significant attention worldwide. As you embark on your journey of advanced studies in Public Health, remember that the SOP for MPH holds the key to your successful selection. In this blog, we are thrilled to provide you with comprehensive insights into this crucial academic document, including
What is Statement of Purpose for Masters in Public Health?
A statement of purpose for MPH is an official admission document which students are required to submit to the selection committee along with their application. It contains about 1000 words touching upon various academic, personal and extracurricular aspects.
Why Is SOP for MPH Deemed Important?
SOP is considered an important document for admission to graduation or post-graduation in public health. The reasons are: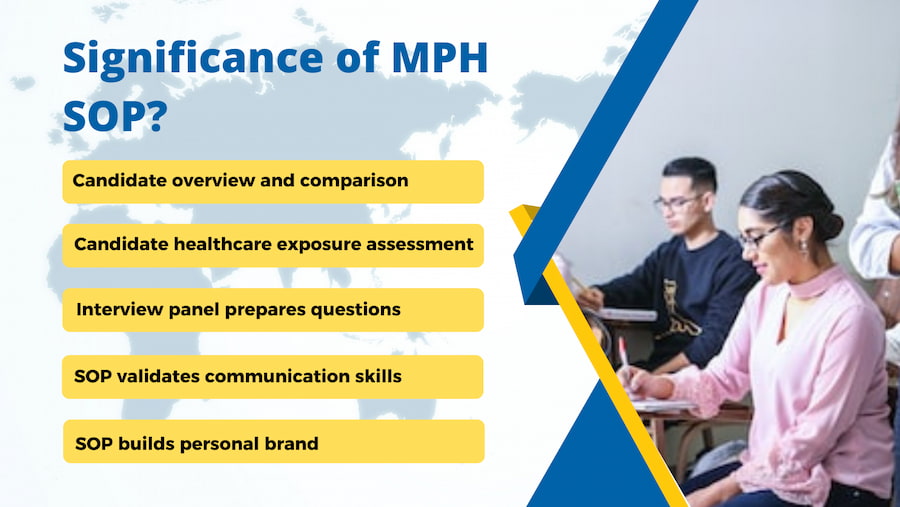 Basic Guidelines for Writing Statement of Purpose Masters of Public Health
It is important to approach SOP writing with a high sense of meticulousness and perfection since it is going to be a document that determines your career in public health.
How to Structure Statement of Purpose for Public Health Masters?
To leave a lasting impression on your selectors, it is crucial to present your statement of purpose on public health with a well-structured and logical approach. Here is an accepted format.
Introduction:
Start your SOP with a strong introduction that gives a basic bio of yourself and why you are writing this. Mention how you got interested in public health and the program you are applying to
Academic profile: Write what courses you have studied so far and how that connects to public health. If there is a course change, give valid reasons for the same and highlight how your current choice aligns more with your goals.
Challenges, skills and strengths: Discuss a couple of major challenges you faced in your career or academic life and how you overcame them. In addition, discuss briefly about the non-academic skills and strengths you bring to the table and how that will be of your benefit as a public health professional
Why public health: Here, elaborate in detail about the factors that led you to choose public health for higher education and the skills and strengths you think would help you in this. Give examples to prove your prowess.
Why this university and country: Give your reasons for choosing a certain country and college for pursuing your masters in public health. Focus on the points you identify more strongly with. For instance, the research scope, internship scope etc.
Career aspirations: Write about your career goals. If you have any academic plans, for instance, pursuing Doctor of Pharmacy degree or other public health related programs, mention that along with your short-term and long-term goals. Clearly mention your plans to return to your home country after studies
Conclusion: Wrap up your SOP for masters in public health by reaffirming the key points you have discussed while highlighting yourself as a responsible prospective candidate. Express your enthusiasm to be chosen and embark on an enriching academic expedition in the realm of public health.
Statement of Purpose for Masters in Public Health Example
Here are some MPH statement of purpose examples for you to read and get acquainted with the style and tone of writing. As you read these public health statement of purpose examples, ensure that you, Keep the statement of purpose for masters in public health sample as a reference point.
Pro Tips for Enhancing Your SOP for Masters in Public Health
Here are some pro tips shared by our certified professional SOP writers. Use them while drafting your SOP to make it look like the best MPH SOP examples.
Complete your SOP at the earliest in order to have time for improvements later.
Use active voice in your SOP to make it appear stronger and more personal.
Use simple words to ensure that your messages are clearly understood by the readers.
Strictly adhere to the recommended word count, format and structure.
Get your MPH SOP proofread by at least two different people and seek their feedback.
Stay Clear of These Common Missteps in Your SOP MPH
While heeding pro tips can elevate your SOP's quality, it is imperative to steer clear of these common missteps to ensure its effectiveness.
Avoid cliche statements, for instance, it was my childhood dream to become a public health professional.
Do not fail to provide relevant and verifiable evidence and examples in your write-up.
Do not include points which are unrelated or would not help you in your chosen program.
Do not try to include numerous points. Shortlist a few important ones and write about them with clarity.
Avoid exaggeration or fabricating stories in an attempt to persuade your admission officers.
WANT TO KNOW MORE ABOUT SOP FOR MPH?
Leading Universities Offering Masters in Public Health (Mph) Programs
When crafting your SOP for MPH Epidemiology or any other field, a crucial aspect to focus on is explaining your interest in the specific university you are applying to. Understanding the strengths and offerings of the university is essential for showcasing your genuine interest. Here is a list of ten renowned universities that are well-known for their MPH programs:
Harvard University – Harvard T.H. Chan School of Public Health (USA)
University of California, Berkeley – School of Public Health (USA)
University of Oxford – Nuffield Department of Population Health (United Kingdom)
University of Michigan – School of Public Health (USA)
Imperial College London – School of Public Health (United Kingdom)
Johns Hopkins University – Bloomberg School of Public Health (USA)
London School of Hygiene & Tropical Medicine (United Kingdom)
University of Washington – School of Public Health (USA)
University of North Carolina at Chapel Hill – Gillings School of Global Public Health (USA)
University of Melbourne – Melbourne School of Population and Global Health (Australia)
Major Fields of Specializations in Public Health
Public health is a broad domain that consists of several multidisciplinary fields. Here are the top ten you can consider for specialization.
Epidemiology
Biostatistics
Environmental Health
Health Policy and Management
Social and Behavioral Sciences
Global Health
Occupational Health
Maternal and Child Health
Infectious Diseases and Public Health Preparedness
Health Promotion and Education
What Are the Career Paths After Masters in Public Health?
After completing your graduation or postgraduation in public health, you can consider a number of career paths in the field of public health. In your SOP for MPH, mention briefly about your career aspiration to impress the admission officer.
As we come to the end of this blog, we sincerely hope that it has helped you in understanding the statement of purpose for masters in public health. If you still find yourself with any lingering doubts on any of the topics discussed here, feel free to reach out to us. Wishing you an adventurous and fulfilling academic journey in public health.
Frequently Asked Questions
1. How long should my SOP for MPH be?
As you may have noticed in the statement of purpose for masters in public health pdf, the ideal length of an SOP is between 800 and 1000 words.
2. Is it necessary to personalize SOP rather than using template?
Yes. An SOP is a very personal narrative about your background, skills, strengths and experiences. It can never be written in perfection by modifying a template.
3. What are the key points to highlight in my SOP for Public Health?
Your relevant academic qualifications, work experience, skills and strengths and future plans are the key elements to cover in an SOP. It is also good to mention some of your extracurricular activities and show how they pertain to public health, as you have seen in the statement of purpose for masters in public health sample.
4. How can I distinguish my SOP from other applicants?
To make your SOP look distinguished from other applicants, personalize it according to your profile. Read a couple of master of public health statement of purpose examples and get familiar with the expectations. After that, brainstorm and note down your own points. Develop your own narrative based on your perspective rather than adopting the perspective in the samples.
5. Is it necessary to follow a specific structure or format in my SOP for masters in public health?
Stick to the format and structure that is acceptable to your institute. If you haven't received any specific guidelines regarding the same, use a generally accepted format, which is shared in this blog.