What is SOP for MS in Ireland?
Are you looking for study opportunities in Ireland? Worried about submitting a strong SOP for Irish universities?
We are here to help you cross that bridge. SOPs can be a frustrating task and it can be unfortunate if you are not aware of the specific tricks and tips. Our team of professional SOP authors have put together a comprehensive guide that will give a complete understanding of the elements of an SOP for Masters in Ireland.
As you scroll down, you will learn:
SOP for Ireland: How Is It Important?
Statement of Purpose is a crucial academic document that illustrates an aspiring student's motivation and interest to pursue a particular opportunity. Most universities today, in Ireland too, require students to submit an SOP to learn about their intentions and calibre to pursue education at their institution.
SOP for Masters in Ireland is very important in the admission process as it holds prominence in the admission officers' decision. Every student applying must consider this as a chance to explain their areas of strengths, highlight their skill level, mention their achievements and emphasise on their motivation.
How is an SOP for MS in Ireland Different From Others?
There are various grounds that make SOP for Ireland unique from those submitted for other countries.
The following traits help us always deliver the best for our clients:
Guidelines for Writing an SOP For Ireland
Our team of SOP writers have put together a few key points that you must consider during your SOP drafting process. These guidelines can help your SOP for MS in Ireland be unique from others and create an impression in the minds of the reviewers.
How to write SOP for MS in Ireland
Now let us walk you through the process of writing an SOP for MS in Ireland. By following these steps, you can easily draft a well-structured SOP that contains all the relevant inputs. The writing process can be split as per the sections of the SOP: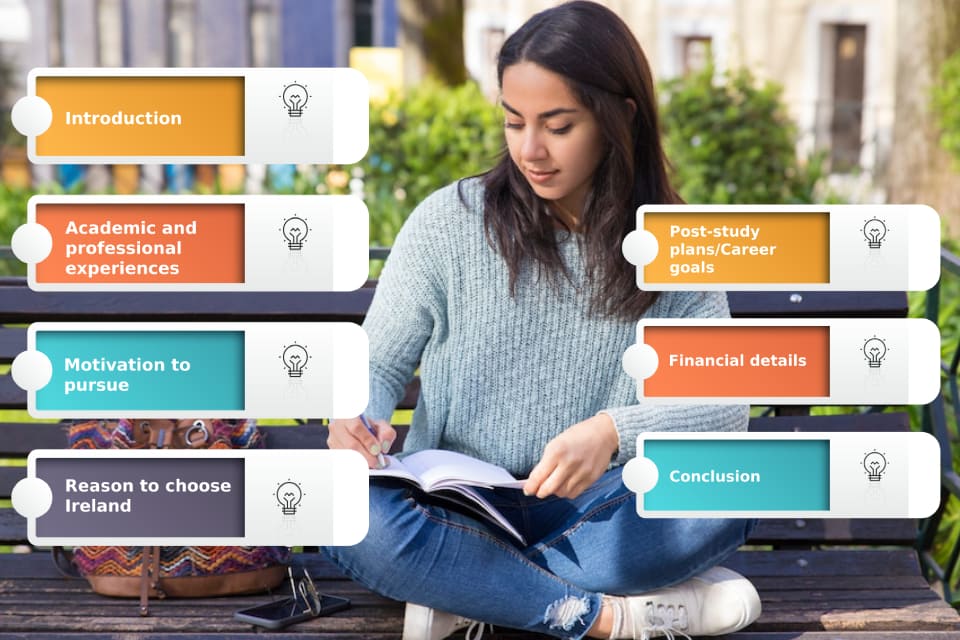 Introduction
You can start by introducing yourself. You can provide personal information regarding your family, their occupations, social background, source of motivation or even narrate a childhood story. This must be inspiring and would be a good chance for you to create a first impression.
Academic and professional experiences
This is where you explain your academic and professional history. If you are planning to study a Master's program in Ireland, you can talk about your schooling and UG experiences. You can elaborate on the relevant details that led you to your decision to study further. These include any particular project or research paper you have worked on, any particular course that you have taken previously, or any co-curricular activity that helped you, etc.
If you have completed any internships, apprenticeships or have work experience, you mention the same in your SOP. The most relevant information like your job duties, any particular achievements, project details, or any incident that can portray your skills or knowledge.
Motivation to pursue the particular course at chosen university
This is where you put your research skills and writing skills into action. You can explain your expectations from the program and university, the relevance of the same in your career, what learning outcomes you aim for, etc. You can state how the university offerings will help shape your skill level in achieving your goals.
Reason to choose Ireland
In this section, you must mention clear cut reasons for why Ireland is your preferred study destination. You must write this in comparison to your home country as well as other popular alternatives like the US, the UK, Australia and Canada.
Post-study plans/Career goals
Your SOP for MS in Ireland must state your reason to return back to your home country after the study tenure. This must be in consideration of your career plans post the program. You can do intensive research on the job prospects of pursuing the particular program and its scope in India. You can split them into short, medium and long term goals.
Financial details
Your SOP for Ireland study permit must include your financial position. You must state the name of your sponsor, details of your educational loan, your assets etc. This is to clarify to the visa officers that you are financially capable to pursue your education in Ireland and can cover all the expenses incurred while you are studying in Ireland.
7. Conclusion
This is the last and final paragraph and must summarise your letter. You should declare your compliance to the eligibility criteria and immigrant regulations here. Close with a positive note and reiterate your potential and willingness to contribute to the learning environment present by the country.
Sample SOP for MS in Ireland
Referring to samples can help you gain more confidence and a better understanding of the overall structure. Hence, we advise you to go through a few of them, to get started on the task.
Common Mistakes to Avoid While Writing SOP for MS in Ireland
Not everyone is an expert in writing an SOP and you tend to make mistakes. Fret not, because our SOP writers have compiled this list that can help you avoid making silly mistakes:
●      Avoid using informal or casual language. An SOP is a professional document and must be written with a precise, clear and optimistic tone. Do not use jargon or slang that can create confusion in the readers.
●      Your introductory paragraph must reflect your energy level. A dull introduction can discourage the readers to continue reading. If not for personal details, you can always write about your academic and research interests.
●      Do not keep the SOP writing till the deadline is near. It is definitely not a difficult task, or a last minute task either. By starting at least 2 or 3 months early, you will have the space to research, revise and edit as many times as you wish.
●      Avoid over exaggerating your enthusiasm and using excessively complimentary words to describe the program or university. This would make you sound desperate and ingenuine.
●      Do not exceed the prescribed word limit. This will create an impression that you lack respect for the readers' time and energy. Revise the draft various times to filter out only the important points that are relevant to the program.
●      Do not skip the proofreading process. This will wash all your time and efforts that you put into gathering your thoughts and recalling relevant incidents. If you are not satisfied with your revisions, you can always approach your professor or a third-party who can give you an objective view.
●      Abstain from lying or providing untrue information in your SOP for MS in Ireland. This is one of the most serious mistakes. Do not copy from anywhere or plagiarise as it can lead to rejection and even blacklisting of your application. 
Tips to Keep in Mind When Writing for a Irish SOP
We have attached this list of tips you can follow while writing an SOP for Masters in Ireland.
Do not copy your resume or CV as such. This will reduce the quality and authenticity of your SOP.
Check thoroughly for grammatical and spelling errors.
Though you can use your SOP to show your language proficiency, make sure to use simple and short sentences. Your SOP must be easy to read and must have a clear structure
Add examples to demonstrate your potential or quality
Keep your SOP within the specified word limit. Making it too lengthy will divert the readers' attention from the relevant points.
Refer sample SOPs for Ireland to get yourself started and gain motivation.
SOP Guidelines for Top Irish Universities
Though most universities follow a standard procedure of filtering SOPs, some of them have unique specifications. This can be to understand the student profile from different perspectives and select the candidate accordingly. We have compiled a set of writing guidelines that are specified by top Irish universities.
University College Dublin
Written and submitted in essay format.
Though there is no prescribed word limit, it is ideal to keep it within 700 words.
If your SOP amounts to less than 300 words, you can submit the same along with the application form. Else you can upload both separately.
Express your passion in your chosen subject
Mention any relevant experiences that influenced you to pursue that program
State your career goals
National University of Ireland, Galway
Written and submitted in essay format
The prescribed word limit is 500 words
Emphasise on your motivation and passion to study that program
Mention your post-study plans to convince the reviewers of your passion
Trinity College Dublin
Besides the essay or letter format, Trinity College Dublin requires students to submit the SOP in a worksheet format. The format include prompts related to:
Your research interests
Reason for choosing the particular program at Trinity
Your skills and achievements
Professional experience if any
Career objectives
Want to know more details about SOP for MS in Ireland?
Documents required for Irish Visa
Your study permit for pursuing your higher education in Ireland is approved on the basis of various factors. These are verified by the visa officers as they go through your submitted documents:
Filled and duly signed visa application form
A valid passport
Passport sized photos
Payment receipt of visa application fees
Proof of accommodation in Ireland
Statement of Purpose
Details of friends or family residing in Ireland
Travel history
Academic transcripts
Experience letters
Proof of financial sufficiency
Travel insurance
Top Masters Courses to Study in Ireland
Ireland is gaining importance as a global study destination for students from various lines of study. The country is increasingly sought after by those aiming to pursue degrees like:
MS in Pharmaceutical Sciences (Healthcare)
MS in Biology (Sciences)
MS in Data Analytics/Big Data
MS in Computer Science and Engineering
MS in Finance and Banking
MS in Engineering (other than IT)
MS in Mathematics
MS in Business Management
What are the pros and cons of studying in Ireland as an international student?
There are two sides to the coins and let's learn about studying in Ireland. Below we will discuss both pros and cons of pursuing higher education in Ireland:
Since you have scrolled this far, we are hopeful that you feel confident about writing your SOP for MS in Ireland. Do you think this guide has helped you learn SOP writing? Let us know in the comment box below.
If you have any queries or need further assistance, please do not hesitate to contact us. 
Frequently Asked Questions
There are various reasons why Ireland is growing as an educational hub:
Irish universities are in the top 3% worldwide and the country is known for its robust education system.
Ireland is cheaper than other popular options like the US, the UK and Australia. The low cost however, does not compromise on the quality of the educational environment.
Ireland is an English speaking country and is thus the best option for students from non-English speaking countries to acclimatise to the Irish dialect.
The Irish universities offer international degrees that are recognised by employers across the world.
In addition to the sea of job opportunities in Ireland, the country provides stay back visas for fresh graduates to find jobs in the country.
Dos
Be clear and crisp
Do enough research to customise the SOP
Focus on achievements, skills and potential
Elaborate on your motivation and post-study goals
Explain reason for returning to home country
            Don'ts
Copy from samples or use plagiarism
Include any irrelevant or false details
Use any unprofessional language
Go beyond the word limit
Skip editing or revising after the first draft is ready
Yes, most certainly. Non-EU students are granted a 1G stamp permission under the Third Level Graduate Scheme. This allows graduates to stay back after the program and look for employment opportunities in the next two years. Once he/she lands a job, the next step is to apply for a work permit which is one more step further towards obtaining a permanent residency. Contact our team today to learn more details.