Medical School letter of recommendation - With Writing Guide 2023
As a recommendation letter is a vital element of an AMCAS application, you will be wondering how to get the same. Medical School letter of Recommendation is a key component of your Medical school education and so it has to be drafted with utmost care. Reading this blog will help you understand the process of drafting a letter of recommendation Medical school.
What is a Medical School Recommendation Letter? Why is it Important?
A Medical School Recommendation Letter is a recommendation letter written to endorse the application of a candidate who aspires to study in a Medical school.  Though you have to submit a lot of documents, a recommendation letter plays an important role in your admission because it provides a third person point of view of your characteristics, abilities and personality.  A strong letter of recommendation for Medical school helps you stand out from the thousands of applications. It also helps the evaluators to select the perfect candidate they are looking for. Being one of the deciding factors of Medical school admission, it helps the Admission Officers to filter out the applications.
Questions You Should Answer Before Writing
Here we list a few questions one is expected to answer while writing a recommendation letter for Medical school, because answering these questions will help you make good content for the recommendation letter.
Explain how you know the candidate. You can briefly explain how well you know the candidate and what your association was.
Here you can mention what makes you think the candidate is a perfect choice for the program offered in the university.
Here you have to explain what the unique qualities of the candidate are, that makes him or her a good candidate for the course opted.
As a Recommender, here you can give details of the previous scholastic and non-scholastic achievements of the candidate.
What Do Admissions Officers Look for in LORs?
Our experience of drafting and analyzing thousands of recommendation letters has enabled us to understand the main points that have to be included in a letter of recommendation for Medical school. Below we list some points that the Admission Officers look for in the Recommendation Letters.
The relationship between the candidate and the recommender
How well and genuine the recommendation is given by the recommender
The contact details of the Recommender
Examples of the said qualities of the candidate
Solid recommendation that strongly endorses the application of the candidate
Instances and examples which throw light on the personal qualities and characteristics of the candidate.
How Long Your LOR Should be?
A Recommendation letter has to be short and precise. Though it is drafted within a word limit of 400 to 500 words. If the university has specified the word limit, candidates are expected to adhere to the word limit and other formatting guidelines given. Below we list the common and general formatting guidelines that one has to follow while writing the recommendation letter for Medical School.
Word count: 400 to 500 words
Character Limit: 2000 to 2500 characters
Margin: One inch on all sides
Page Limit: One page
Font Size: 11 or 12
Font Style: Times New Roman
Medical school letter of recommendation- Samples
Guidelines for Using Samples
Tired of searching for a Medical school letter of recommendation example?  Don't worry, we have got you. Here in this blog we have attached a perfect letter of recommendation for Medical school sample. Going through this sample letter of recommendation for Medical school, will help you better understand how to write a letter of recommendation for Medical school. Skim the sample and analyze how the recommender has given the recommendation for the qualities and capabilities of the candidate. Reading a sample will help you better understand how to structure a recommendation letter, but remember never try to copy anything from the sample provided, as it will affect the quality and credibility of the letter.
Write Your LORs in 6 Steps
Our expertise in recommendation letter writing has enabled us to formulate a 6 step strategy to write a recommendation letter for doctor.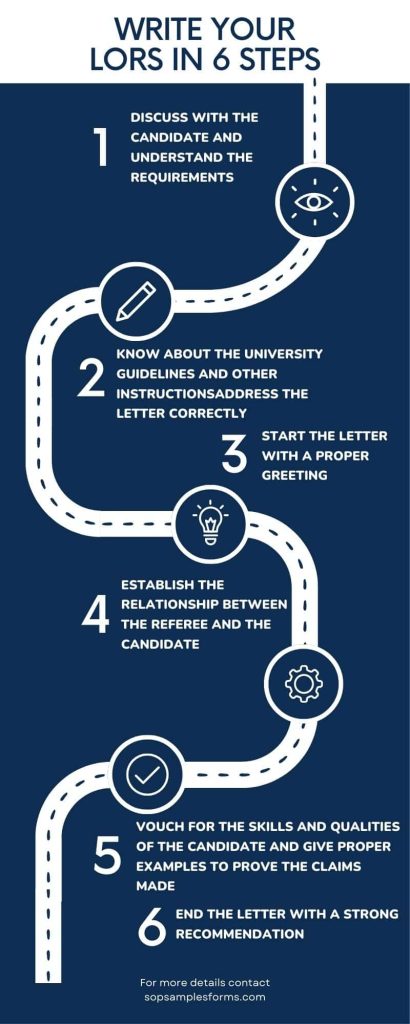 Whom should one approach to write a Medical School LOR?
You can approach anyone who knows you both academically and professionally. Following are the list of people whom you can approach to write a Medical School recommendation letter. Since you are expected to produce 3 recommendation letters for a medical school, choose people from diverse backgrounds, because this approach will throw light on the different characteristics of the candidate.
Do's and Don'ts while writing LOR for Medical School
Do follow the instructions
Never copy or plagiarize the content
Write within the word limit prescribed
Don't keep to the last minute to write the recommendation letter
Never write the LOR if you are not interested in recommending the candidate
Provide specific examples to leverage the quality of your write up
Don't provide negative recommendation
Ask LOR from people from diverse backgrounds
Never forget to proofread the content
So we have reached the end of the blog. Hope you've got some insightful information about the structure and format of writing a Medical school letter of recommendation. Feel free to contact us if you have got any doubts regarding the drafting of a recommendation letter for medical school.