Nursing letter of recommendation - With Writing Guide 2023
Are you a Nurse, planning to switch jobs or do higher studies? Or are you asked to write a Nursing letter of recommendation? In both cases, you are at the right page, because here in this blog we will discuss all the details regarding how to write an LOR for Nursing.
What is a Nursing Recommendation Letter? Why is it Important?
A Nursing Recommendation Letter is an endorsement letter written to vouch for the skills and capabilities of a Nurse. The reference letter for Nurse is an important element when a Nurse considers higher studies or job switch. It is important because:
Questions You Should Answer Before Writing
Being one of the most demanded jobs, Nursing is suitable for anyone who has a passion for the medical field. While drafting a Nursing character reference letter, one has to ask certain questions to craft it better and in an interesting manner. Below are some of the questions one should ask before you sit to write a letter of recommendation for a Nurse friend.
This is one of the crucial questions you have to ask the Nurse to understand why you have been contacted by the candidate to write a recommendation letter for Nursing. Here you have to ask details regarding the program opted or job applied, format to be followed while writing the letter, guidelines, etc.
Answers to this question must include how you know the candidate and in what capacity you know the candidate. You may know the candidate as a colleague or as a student. So do mention your association.
Here you have to mention about the unique skills and capabilities of the candidate and include examples to prove your points.
As a Recommender, here you can discuss how the candidate performed as a Nurse. You can give details regarding the professionalism and work ethics of the candidate.
Here you have to give your personal opinion regarding how qualified the candidate is for the job or course he or she has applied for.
What Do Selection Officers Look for in LORs for Nurse?
In a letter of recommendation for Nursing student or professional, the Selection Committee may look for:
How genuine the Recommender is in his recommendation
The relationship between the Recommender and the candidate
Examples of the said qualities and skills
Contact details of the Referee
How Long Your LOR Should be?
Below are some of the formatting guidelines, but they are general guidelines, so if the university has specified any guidelines, please adhere to the same.
Word count: 400 to 500 words
Character Limit: 2000 to 2500 characters
Margin: One inch on all sides
Page Limit: One page
Font Size: 11 or 12
Font Style: Times New Roman
Nursing letter of recommendation Samples
Guidelines for Using Samples
Are you searching for the perfect sample professional reference letter for Nurses? Here we have attached a Nursing letter of recommendation example. Referring a sample letter of recommendation for Nurse colleague, will help you better craft the letter. Here we list a few guidelines to consider while using the attached letter of recommendation for Nursing student.
You can consider below points while reading the sample: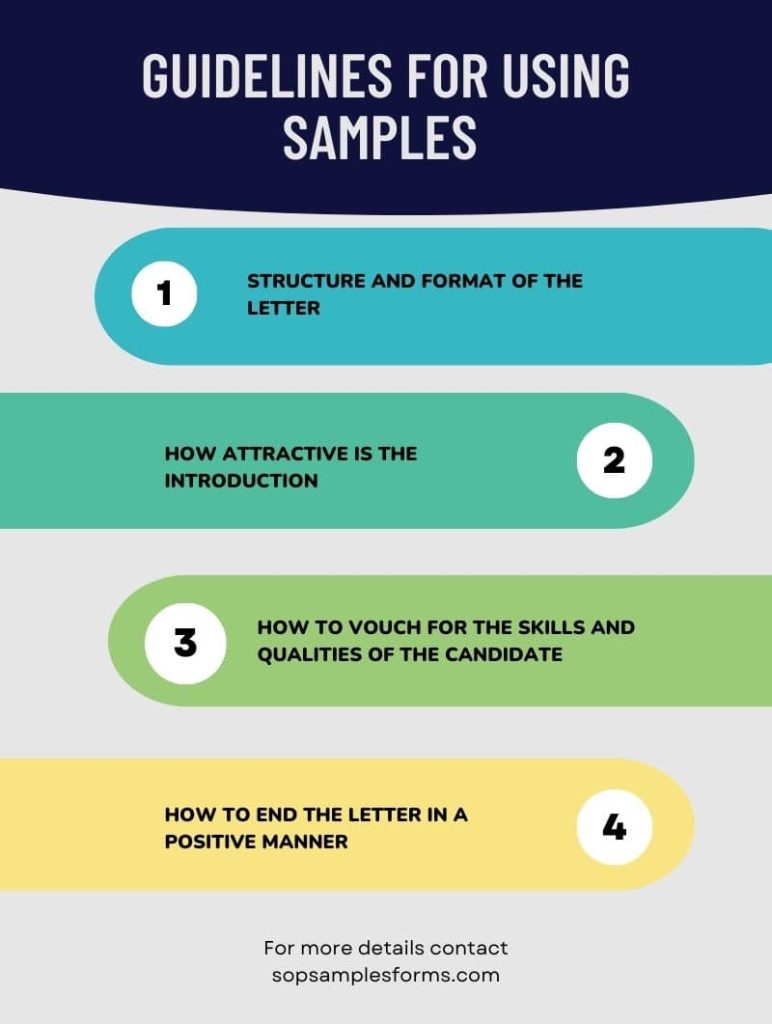 Write Your LORs in 6 Steps
Our expertise in writing thousands of recommendation letter has enabled us to break down the complex process of writing a letter of recommendation for Nurse practitioner. Below is the 6 steps strategized by our expert writers.
Who Is Eligible to Write LORs?
To write a letter of recommendation for Nursing student or professional, one can choose anyone who knows you well and has mentored you. Below is a list of people whom you can approach to write a staff Nurse recommendation letter for Nurses.
Do's and Don't in Your LOR
If you require multiple LORs, contact diverse persons to write your recommendation letter
Don't write a generic recommendation letter, be specific in your writing
Always proofread the reference letter
Don't lie in your writing
Give enough time for the Referee to write a compelling recommendation letter
Don't use any negative language in your writing
Follow the format and guidelines given by the candidate or institution
Don't stuff the LOR with irrelevant information
Having read so far, we hope that you are now clear with the process of drafting a Nursing letter of recommendation. If you still have doubts, post your doubts as comments in the comment section below. Our expert team will help you with professional assistance to draft a reference letter for Nurse.